Saint James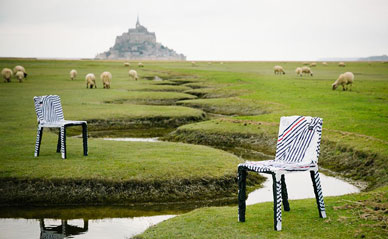 In the 19th century, the Breton Fisherman Sweater was designed to protect fishermen from the elements during long days and nights at sea. It became the trademark apparel of the garlic merchants, or marchands d'ail, of Brittany. As they braved the English Channel to sell their goods to the United Kingdom, the marchands d'ail were never without their iconic sweaters, which soon earned the nickname of chandail, a shortened version of the merchants' name. At the helm of the sweater's creation were the wives of the merchants and fishermen of Brittany. Applying a secret-stitch technique preserved by generations of mothers and daughters, their pullovers surpassed all others, granting warmth and resistance to water and wind.
It was in Saint-James, a town in Normandy established by William the Conqueror in the 11th century and renowned for its extensive weaving and draping traditions, where the women acquired their yarns. In Saint-James, circa 1850, the Legallais family's spinning plant, Les Filatures de Saint-James, began producing the yarn for the fisherman sweater, fostering its popularity and transforming this regional expertise into a successful industry. To this day, the Saint James atelier and factory is still located in the small village of Saint James, (population: 3000) about 20 kilometers from Mont-Saint-Michel.
Saint-James has remained true to its hallmark for over 150 years, producing the highest quality nautical-inspired silhouettes. To this date, Saint James still purveys the French Navy and the French Army (La Marine française et l'Armée de Terre) with their official uniform sweaters
Saint James is the maker of the authentic nautical Breton shirt in combed cotton jersey that has been part of the official French naval uniform since 1871. According to an old lore from Brittany, the 21 stripes each correspond to a naval victory of Napoleon's French fleet against the British.
Saint James is also renowned for the side-buttoned Breton Fisherman Sweater that has been traditionally worn by Breton fishermen since the 19th century. Close-knit quality and double-twist wool meant to protect against sudden gusts of wind and be sturdy enough to withstand strenuous work at sea. It is considered the seafarer's second skin. In France, Saint James is to stripes and all things nautical the absolute reference.
SAINT JAMES CRAFTMANSHIP AND QUALITY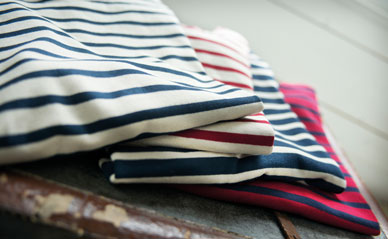 For over 125 years Saint James has been making some of the favorite garments of professional sailors to fashion conscious consumers from Tokyo to New York. Renowned for the quality of its garments as well as the attention paid to every detail, the company's reputation was earned thanks to the careful attention given to every step of the manufacturing process as well as the time spent transmitting each craftsman's know-how to a new generation.
ESSENTIALS STEPS TO THE CREATION OF A SAINT JAMES WOOL GARMENT.
Yarn control
This is the first essential step. Each batch of thread received at our factory is rigorously tested before being knitted: humidity, resistance, color and several other characteristic must all be approved – if one batch does not match all the requirements it will be discarded. Once the tests are over, each batch will be coded so that we can always trace a garment to its batch of thread.
Knitting
From decade old mechanical to the latest technologies dozen of looms stand in the Saint James factory, each knitting a different type of panel: from simple on mechanical machines, to structured and more imaginative stitches on the latest machine. The body (front and back) ; the sleeves, the collar and trims are knitted separately but always with yarn from originating from the same batch in order to guarantee color matching on each garment. Impurities, whether of natural origin or not, incrusted in the yarn are manually removed by hand after each garment coming out of the manufacturing unit is inspected individually.
Assembly
For a sweater, and even more for a cardigan, an impressive number of steps if taken in order to insure the quality of each Saint James' garment:
Upon leaving the knitting unit, each knitted parts is steam sprayed in order to stabilize the size and prevent shrkinkage during wash.
For parts that are not knitted to size, knitted elements are stacked and then cut-to-size using a wooden pattern.
Assembly of elements: stitching, overcast seam, stitching of collars or buttoned strips, sewing of labels. These precision tasks require all the know-how handed down to seamstresses generation after generation. (It takes an average of 4 years to train a seamstress at Saint James, no school for our art exists in France anymore and all operators are trained in the factory).
Each garment is inspected prior to the creation of buttonholes and the attachment of buttons.
Ironing is the last step before a garment can finally leave Saint James.
COTTON TEE-SHIRT
Similar to the process for wool garment, cotton pieces have one extra step, but a crucial one – after each part of the shirt is cut, the pieces are then applied to a needled table, this allows for each stripe to be perfectly aligned from front of the shirt to back. This extra step taken by Saint James is one of many that makes our garment so special and visually striking.
THE ORIGIN OF THE BRETON SWEATER (CHANDAIL)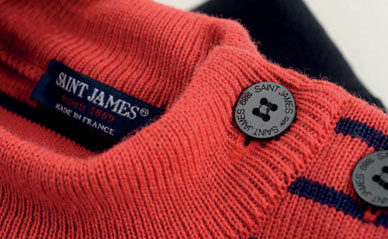 The origins of the fisherman's sweater are to be found in 18TH century Brittany. Onion merchants, leaving from Brittany to sell their goods in England, wore a very distinctive item of clothing that made them recognizable from a distance.
The French expression "marchand d'ail" (garlic merchant), was soon anglicized as "chandail" and ended up referring to this unique item of clothing that was the fisherman sweater.
Knitwear, which until then had been made from wool cloth, was made using a secret, extremely tight stitch which granted the chandail, made of unwashed sheep wool, a considerable resistance to both wind and cold (as well as some waterproofing), keeping sailors warm and dry on the seas.
The real Fisherman's sweater was a long garment, very close fitting and worn inside the pants in order to protect a sailor's back even when bending and working on the boat. Highly practical the chandail is also very easy to put on as a result of one shoulder being closed with buttons.
Within a few decades several color variants appeared: red, white, striped, but it should be remembered that, in the Navy, the single colored sweater was reserved for officers, and the striped variety for sailors. To this day, in the French Navy, young recruits wear a striped tee-shirt during their three month onboard training period.
Originally reserved for professional purposes, the Fisherman's sweater has now become, like denim, a 20th century fashionable clothing item.
Rooted in our common heritage, this mythical sweater is worn by both fishermen and enthusiast sailors, at sea, and in town. The chandail is now a quintessential item for the wardrobe or adventurers, artists and fashion conscious consumers alike.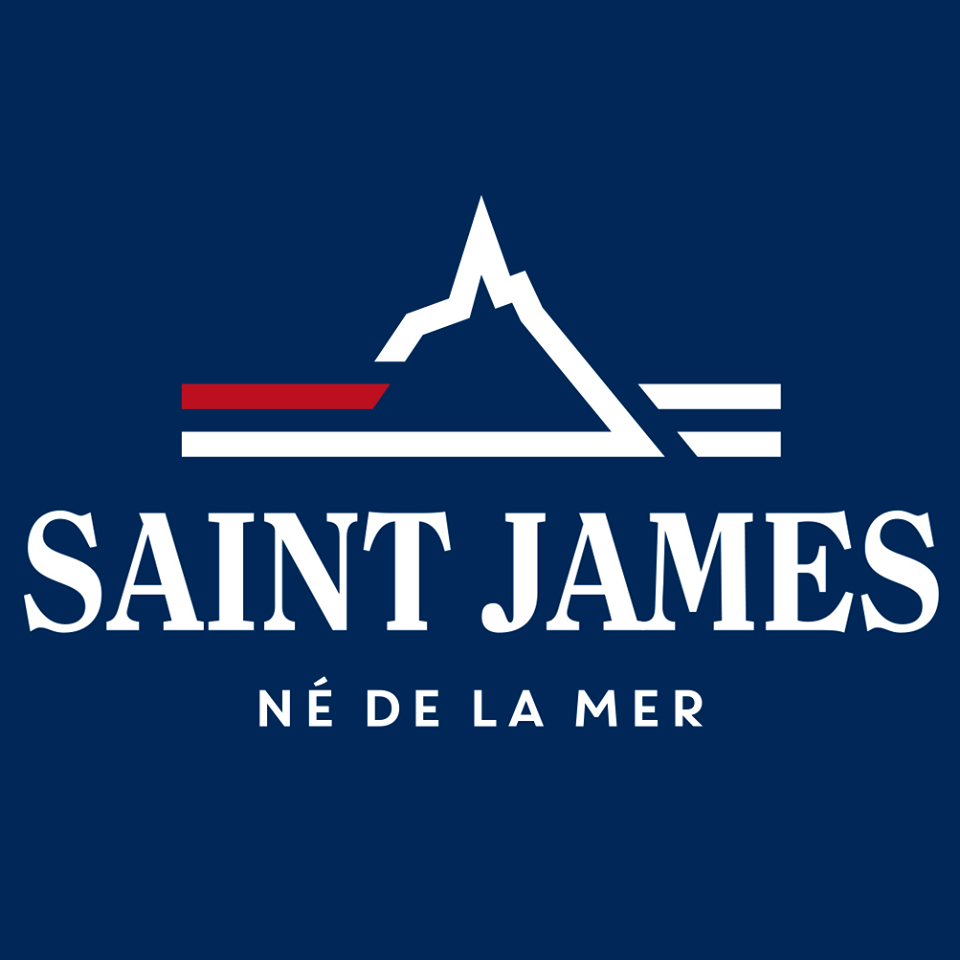 ---